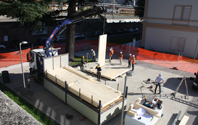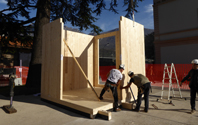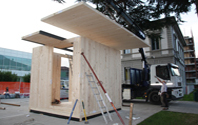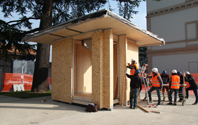 Launch of the construction of the new experimental prototype C_ASA.
A concept born during the workshop ASA – Advanced School of Architecture, C-ASA (Construction ASA) is a modular building, designed to accommodate common areas dedicated to the study, a small information office or retail spaces. In the execution phase, the design has been optimized according to energy issues and construction advantages, and refined in relation to the context, the campus of the Polo Territoriale di Lecco – Politecnico di Milano, in Via Ghislanzoni.
The design arises from the geometric shape of the cube: the bare structure in septa of X-LAM extents 3,35×3,35×3,35 m, so as to ensure an internal net area of 12.5 sqm.
Totally dry assembled, completed with innovative materials, the prototype will undergo tests to evaluate the performance of the envelope, actively involving students both during construction and monitoring.